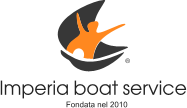 Since 2002, we have been in the maritime navigation business with expertise in both sailing and open-sea vessel repairs involving crewmembers.
While securing comfort and undisturbed rest for our guests in charter voyages we worked together with managers and service agents in the Netherlands, Germany, Denmark, Sweden, Finland, Russia, Ukraine, Turkey, Monaco, France, and Italy. We faced and successfully managed challenges and enjoyed support from agents in the above countries.
It was their welcome and help in passing pre-booked port and customs procedures, timely equipment and expendables' supply, and our cooperation with skilled engineers that gave us confidence for further cruises.
Having acquired expertise in yacht maintenance and repairs and adopting the work style and experience from various managers and best-reputed agents, we launched IMPERIA BOAT SERVICE located in state-of-the-art berths of San Lazzaro in the city of Imperia (Porto Maurizio) on the shores of the Ligurian Sea.
Imperia Boat Service provides full yacht servicing in the ports of the Ligurian sea along the coast of Italy in San Remo, Portosole, Santo Stefano al Mare, Marina Degli Aregai, Imperia, Diano Marina, Andora, Alassio, Savona, Varazze, Genoa (Genova), Santa MargheritaLigure, Portofino, La Spezia, Viareggio and Côte d'Azur of French riviera in ports Mentone, Monaco Port Hercule,Port of Fontvieille, Cap d'Ail, Villefranche-sur-Mer, Nice, Antibes, Golfe-Juan, Cannes, Saint-Tropez.